1/7 Dodge Challenger SRT Demon Clear Body: ARRMA Infraction 6S

1/7 Dodge Challenger SRT Demon Clear Body: ARRMA Infraction 6S
Product Details
Key Features
Officially Licensed by Dodge
Replicate the Fastest 1/4 Mile Production Car Ever
Incredible Scale Details
Made with Crystal Clear Polycarbonate
Made in the USA, since 1982
In The Box
(1) Dodge Challenger SRT Demon Clear Body
(1) Clear Rear Wing
(1) Wing Mounting Hardware Set
(1) Extensive Decal Sheet
Paint-then-peel Over Spray Film and Window Masks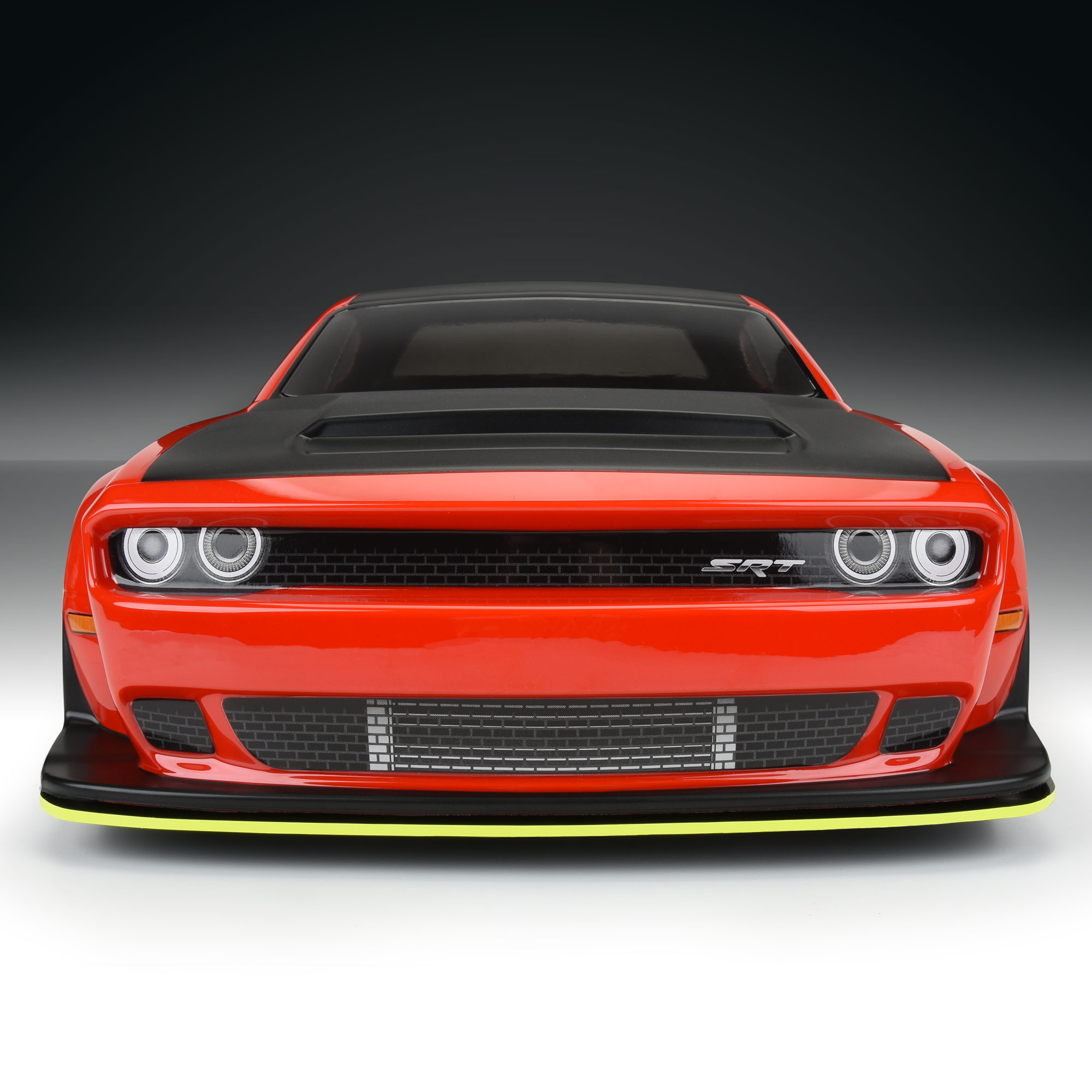 Overview
Rev up your excitement as Pro-Line introduces a legendary nameplate to the ARRMA® Infraction™ 6S - the Dodge® Challenger™ SRT Demon. Combining the iconic design of the Dodge® Challenger™ SRT Demon with the exceptional performance of ARRMA®'s Infraction™ 6S, this new RC car body promises an adrenaline-pumping experience like never before.
The Challenger™ SRT Demon was the world's fastest 1/4 mile production car, with a mind-blowing 840 hp. What better styling to bring to the tire-melting Infraction™ 6S? This 1/7 recreation captures the essence of its full-sized counterpart in every detail. From the menacing front grille to the aggressive stance and distinctive SRT Demon badging, the attention to detail is impeccable.
The SRT Demon is Made in the USA from durable 1.5mm thick high-quality polycarbonate with paint-then-peel overspray film. Also included are an extensive decal sheet lets you deck out your body with SRT & Demon logos and badges, and an add on high-downforce rear wing with mounting hardware.
Transform the look of your street basher with the iconic Dodge® Challenger™ SRT Demon!
Please note to fit this officially licensed body to your Infraction™ 6S, a set of ARRMA® Body Posts (Part# ARA320357) is required (sold separately).
Don't forget to submit your finished PROTOform body to Reader's Rides when you are done. Who knows, you could get your ride posted on the blog and you could even win a prize!
This is sold as a clear and unpainted body. Image of the painted body is only to display details. No vehicle chassis is included with this product.
PRM158600 | Dodge® Challenger™ SRT Demon Clear Body for ARRMA® Infraction™ 6S
Features
Incredible Scale Details
Replicate the Fastest 1/4 Mile Production Car Ever
Officially Licensed by Dodge®
Extensive Decal Sheet
Paint-then-peel Overspray Film Built-in
Made with Crystal Clear Polycarbonate
Made in the USA
Four Steps to All-Road Ready
Clean Body and apply included window mask
Paint then peel the over-spray film off
Sticker your body (decal sheet included)
Mount your new body onto your Car
Fits
ARRMA® Infraction™ 6S (ARA7615V2) Requires ARA320357 body posts
ARRMA® Limitless™ (ARA109011) Requires ARA320357 body posts & ARA320517 body post mounts
Specs
Wheelbase:
15.98" (406 mm)

Dodge® and related logos, vehicle model names and trade dress are trademarks of Chrysler Group LLC and used under license by Pro-Line.
Product Specifications
| | |
| --- | --- |
| Vehicle Type | All-Road |
| Wheelbase | 15.98" (406 mm) |
| Product Height | 7" (178 mm) |
| Product Width | 12.4" (315 mm) |
| Body Style | Dodge Challenger SRT Demon |
| Material | Polycarbonate |
| Color | Clear |
| Scale | 1/7 |
| Product Length | 27.4" (696 mm) |