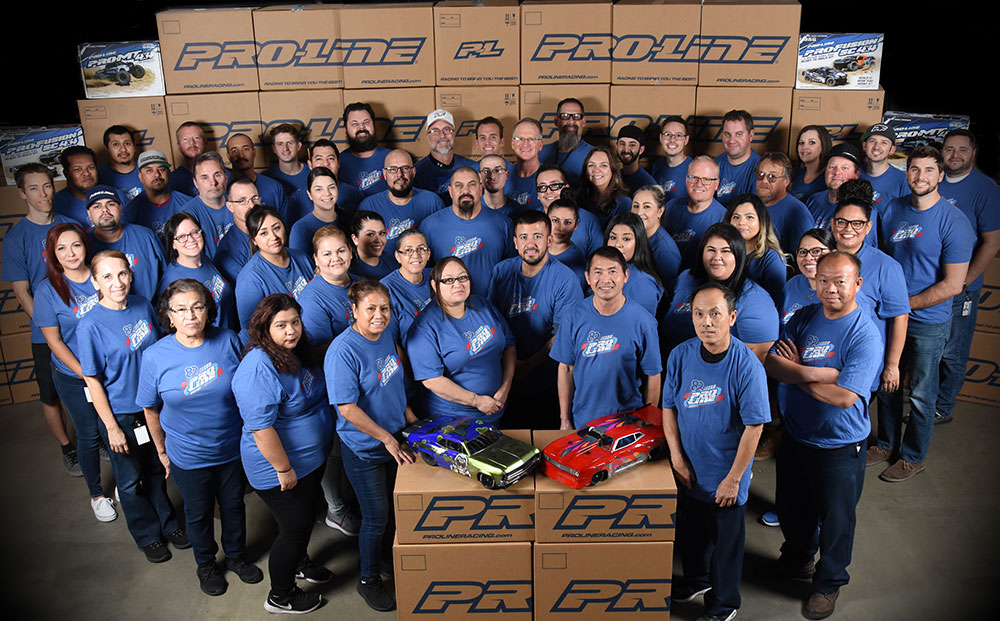 Who is Pro-Line Racing?
We are a passionate team of American Innovators bonded by Vision, & Determination. For over 35 years, Pro-Line Racing has created unforgettable memories for the everyday backyard hero to winning 12 IFMAR World Championship titles.
As a world class U.S. Manufacturer and 12-Time World Champion, our goal is to always satisfy our RC customers through cutting edge designs and high performance products. That is why Pro-Line has been honored with 41 Readers Choice Awards, surpassing any RC Accessory company in the industry.
For over 35 years Pro-Line has been Made in America. We have committed, invested and developed a world class facility and team of Americans. We are devoted to providing you with cutting edge innovation and performance products that improve your RC experience.
Pro-Line is committed to Quality products and the highest service. We take great pride in producing quality products and we do not compromise on materials or workmanship in our process. Our proprietary manufacturing processes, custom blended raw materials and in-house developed tooling provides you the most trusted and highest quality RC accessories in the world!
Pro-Line is dedicated to a World Class Team, a team of Americans who are constantly working to improve our company, our products and our service to you. Our Team work hard every day to achieve excellence in tooling, manufacturing, packaging, shipping and customer service. We value our relationships with our end users, distributors, dealers, customers, suppliers, industry partners and our fellow Pro-Line team members. Relationships are honored with integrity, honesty, a supportive environment, and an ownership attitude.
Pro-Line is committed to Our Community. One of the benefits of running a successful company for over 30 years is that we have been able to give back. We believe in lending a hand and helping those who are in need. As a team, Pro-Line has supported both our local, national and international charities over the years. We have donated not only out of our profits, but we have also donated our time providing Thanksgiving meals to local families, providing backpacks for kids going back to school, providing treats for our troops, we have had coat drives, and we built a playground and computer lab for an orphanage in Mexico. All of these things we do as a team giving our entire organization an opportunity to help. This provides a powerful message of encouragement and hope to those in need and we have had a blast helping out in the process.
History
In 1982, Pro-Line Racing established a new standard for RC Accessory Performance by designing and launching a line of tires and wheels for the emerging off-road market. In those days, Tamiya and Associated kits where leading the way and Pro-Line strategically focused product advancement in off-road tires and wheels. As a result, Pro-Line has achieved 12 IFMAR World Championships, hundreds of U.S. National & European Championships including thousands of regional events.
In 1995, Pro-Line made another winning move by joining forces with PROTOform Race Bodies to expand the company's body range and develop it's clear competitive focus in the on-road market.
Today, enthusiasts have come to know Pro-Line Racing for excellence in product development and proven RC performance in 1:8 Buggy/Truck, 1:10 Electric, Rock Crawling, Short Course, 1:5 Off Road and Nitro classes. You might wonder, what's in the future for Pro-Line? As the owner, I would like to tell you and commit to you that we are going to improve. We are going to develop and drive more innovations that are exciting and fun for our consumers. We are going to build on existing relationships and make some new friends along the way. Finally we are going to care for our team mates, consumers, dealers, distributors, industry, community, charities and our environment, and we are going to have fun doing it! Thanks for your support over the last 35 years and we are looking forward to our future.