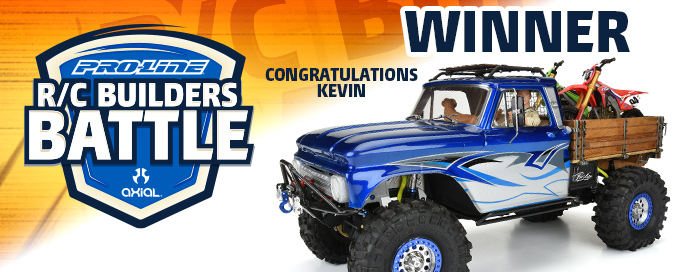 PRO-LINE R/C BUILDERS BATTLE SWEEPSTAKES
AXIAL® SCX10™ III Base Camp Edition
We have four Axial® SCX10™ III Base Camp Crawlers that were sent to be built into the ultimate custom rigs by R/C Builders in an East VS. West Build Off! These builders below took the SCX10™ Base Camp kit and modified them with Pro-Line Bodies, Wheels & Tires and other upgrades! Scroll below to see the contestants builds!
Sign in at the bottom to VOTE on your favorite build, and you will have a chance to win your very own SCX10™ III Base Camp RTR prize package to customize yourself with Pro-Line product (a $580 Retail Value)!
Want a more in depth look at these builds?
WATCH NOW at RC Driver!
PRO-LINE R/C BUILDERS BATTLE: SCX10 III Base Camp