1/5 Impulse Pro-Loc Front/Rear 24mm X-MAXX Wheels (2) Black/Gray

1/5 Impulse Pro-Loc Front/Rear 24mm X-MAXX Wheels (2) Black/Gray
Earn
points on this item
ⓘ
Product Details
Key Features
Ground Breaking Pro-Loc Mounting Technology
Change Tires or Foams and Re-use the Wheels
Tough, Blacked-out Impulse Wheel styling
Extra Thick, Extremely Durable to Take Serious X-MAXX® Abuse
Stone Gray Bead-Loc Rings Stand Out from the Crowd
In The Box
(2) Impulse Pro-Loc Black X-MAXX 24mm Wheels
(4) Stone Gray Pro-Loc Rings
(80) M3 x 20mm Socket Head Cap Screws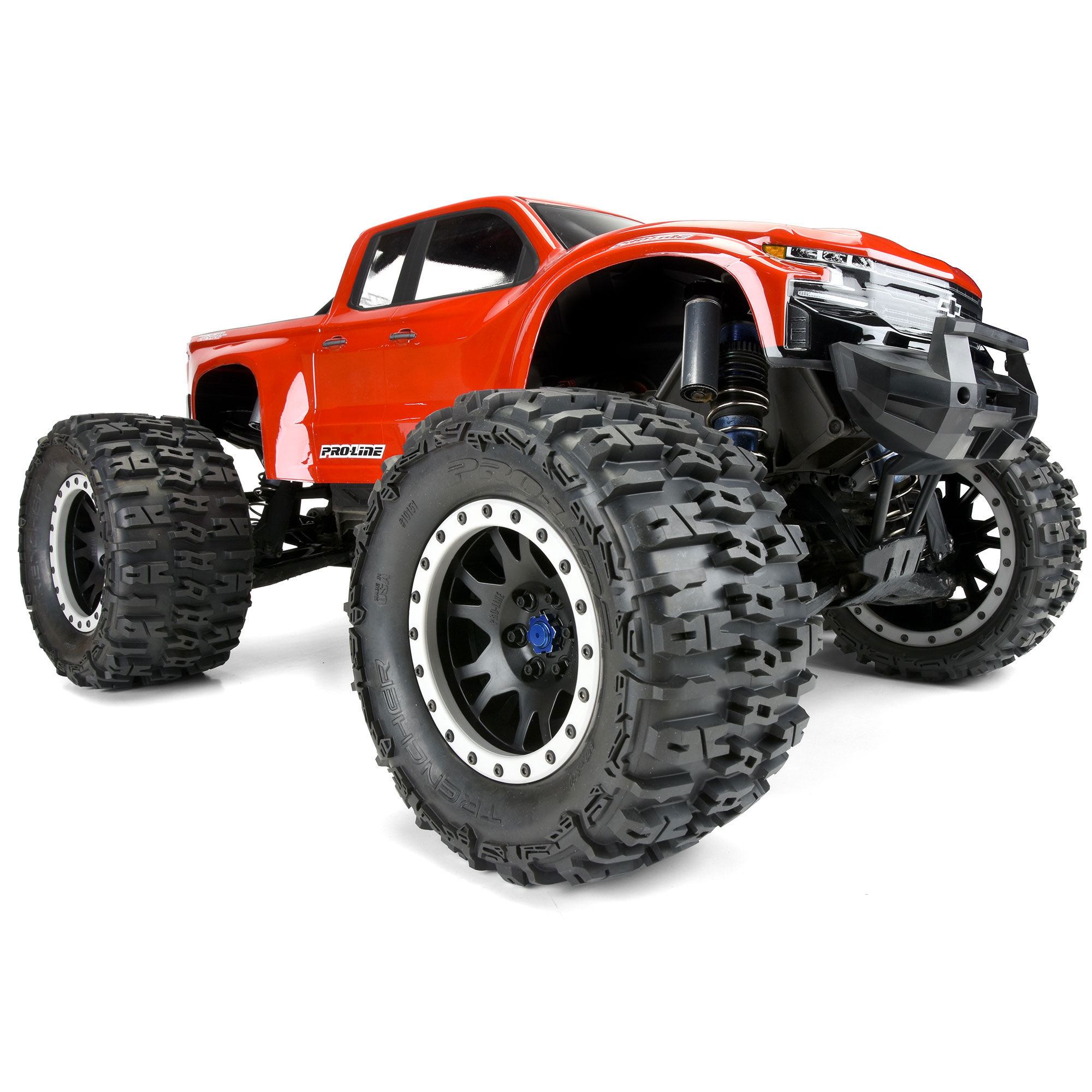 Overview
This is a pair of Impulse Pro-Loc Wheels for X-MAXX®. Pro-Line has the ultimate Wheel solution for X-MAXX® owners with the all-new Impulse Pro-Loc Wheels! The Impulse features a ground breaking Bead-Loc design that allows users to change tires or foams when necessary without worrying about the tires coming out of the bead. Pro-Line's proprietary Pro-Loc Technology brings this feature to life and creates an ultra-secure bond between Pro-Line's Pro-Loc Tires and Pro-Line's Impulse Pro-Loc Wheels. The reinforced Tire bead of Pro-Line's Pro-Loc Tires fits into a uniquely shaped channel on the wheel and the bead-loc screws actually pass through the tire rubber before being pinched by the outer bead-loc ring to create the maximum possible mounting security. The Impulse design is inspired by full-size off-road wheels with a Tough, Blacked-out look and is manufactured at Pro-Line Headquarters in the USA out of extra thick, extremely durable material designed to take some serious abuse. The look of the Impulse Pro-Loc Wheel is finished off with the Stone Gray Bead-Loc Ring that will get your truck noticed wherever you go! If you want to take your X-MAXX® to the next level of Performance and Durability get Pro-Line's new Impulse Pro-Loc Wheels!!
*Pro-Line Pro-Loc Wheels only accept Pro-Line Pro-Loc Tires*
Please note: All tires & wheels are sold in pairs, unless otherwise noted
PRO276303 | Impulse Pro-Loc Black Wheels with Stone Gray Rings for X-MAXX®
X-MAXX® is a registered trademark of Traxxas® L.P.

Features
Ground Breaking Pro-Loc Mounting Technology
Change Tires or Foams and Re-use the Wheels
Tough, Blacked-out Impulse Wheel styling
Extra Thick, Extremely Durable to Take Serious X-MAXX® Abuse
Stone Gray Bead-Loc Rings Stand Out from the Crowd
Pairs perfectly with Pro-Line's Badlands MX43 Pro-Loc Tires
Made in USA
Fits
Product Specifications
| | |
| --- | --- |
| Manufacturer # | 2763-03 |
| Color | Grey |
| Scale | 1/5 |
| Package Type | Wheels Only |
| Wheel Position | Front/Rear |
| Inner Tire / Outer Wheel Diameter | 4.3 in |
| Quantity Option | 2 in a package |
| Wheel Hex Size | 24mm |
| Vehicle Type | Monster Truck |
| Wheel Type | Impulse |