1/5 Badlands MX43 Pro-Loc Front/Rear All Terrain X-MAXX Tires (2)

1/5 Badlands MX43 Pro-Loc Front/Rear All Terrain X-MAXX Tires (2)
Earn
points on this item
ⓘ
Product Details
Key Features
Incredible Traction on Any Surface
All New Ultra-Durable and Anti-Ballooning Tire Compound
Aggressive Motocross-Inspired Appearance
Reinforced Tire Bead
Proprietary Pro-Loc Technology for Secure Tire Mounting
In The Box
(2) Badlands MX43 Pro-Loc Tires
(2) Foam Inserts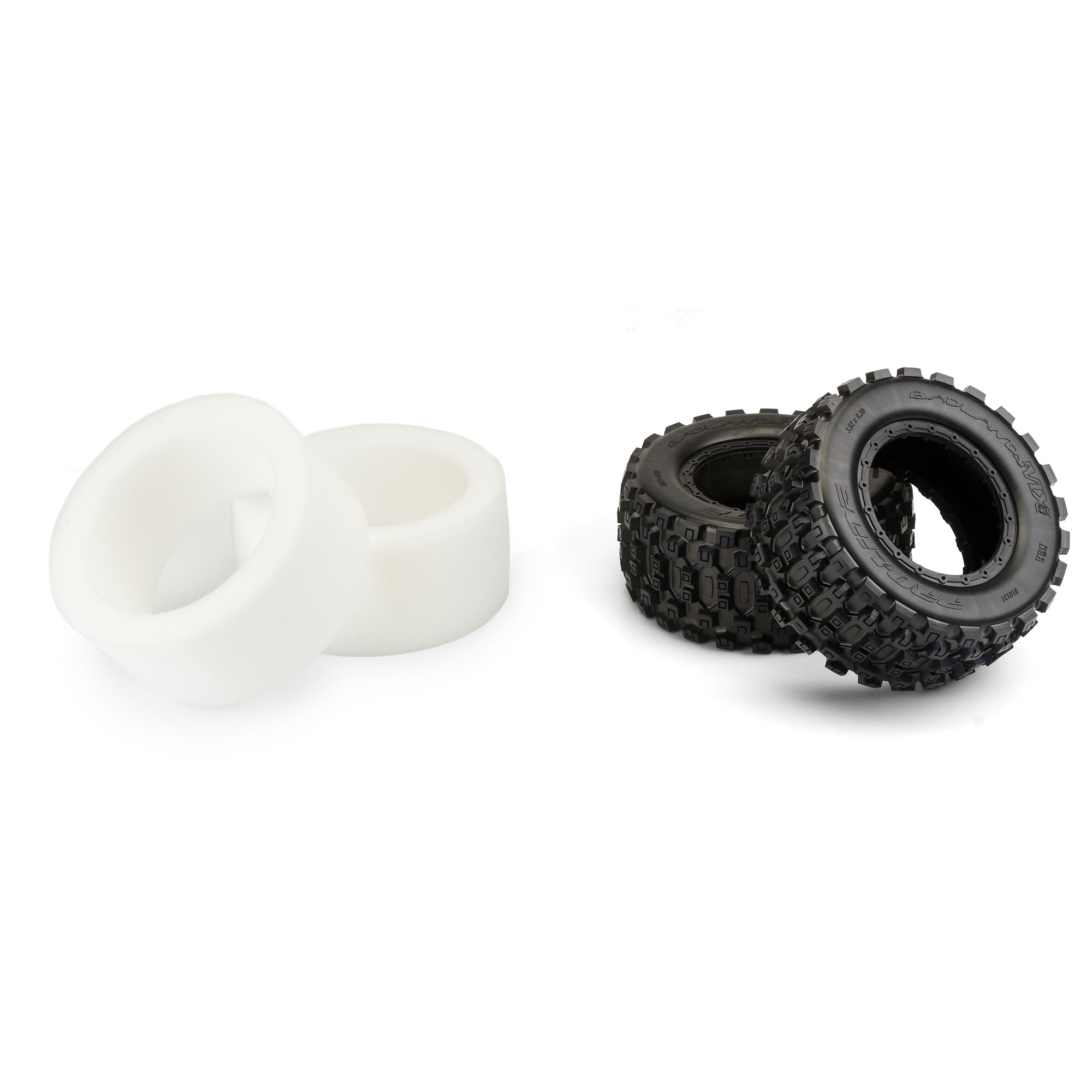 Overview
This is a pair of Badlands MX43 Pro-Loc tires. Pro-Line is ready to unleash the long-awaited tire solution for X-MAXX® owners with the Biggest and Baddest tire ever conceived: the Badlands MX43! Pro-Line Badlands tires are known for having a sweet Motocross inspired tread and the all-new Badlands MX43 tires kick that up a notch with a Bigger and Bolder knobby tread that matches modern MX tire design. These tires have been developed from the ground up for extreme X-MAXX® punishment with an all-new ultra-durable compound that prevents tire ballooning even at high speeds. The Badlands MX43 features Pro-Line's groundbreaking proprietary Pro-Loc Technology that creates an ultra-secure bond to Pro-Line's Impulse Pro-Loc X-MAXX® wheels while still being removable when required. The reinforced Tire bead fits into a uniquely shaped channel on the wheel and the bead-loc screws actually pass through the tire rubber before being pinched by the outer bead-loc ring to create the maximum possible mounting security. The Badlands MX43 is a true All-Terrain tire that will find traction on any surface but is best suited for loose & loamy dirt, mud or grass. Just imagine your X-MAXX® throwing up huge rooster tails with these aggressive looking tires!
If you want to take your X-MAXX® to the next level of Performance and Durability get Pro-Line's new Badlands MX43 Pro-Loc Tires!!
*Please Note the Badlands MX43 Pro-Loc Tires only fit on Pro-Line Pro-Loc Wheels*
Please note: All tires & wheels are sold in pairs, unless otherwise noted
PRO1013100 | Badlands MX43 Pro-Loc Tires pre-mounted to Impulse Pro-Loc Wheels for X-MAXX® Front or Rear
X-MAXX® is a registered trademark of Traxxas® L.P.
Features
Incredible Traction on Any Surface
All New Ultra-Durable and Anti-Ballooning Tire Compound
Aggressive Motocross-Inspired Appearance
Reinforced Tire Bead
Proprietary Pro-Loc Technology for Secure Tire Mounting
Pairs perfectly with Pro-Line's Pro-Line's Impulse Pro-Loc wheels (PRO276303) for X-MAXX®
Foam Inserts Included
Made in the USA, since 1982
Fits
KRATON™ 8S (ARA110002 and ARA5208)
X-MAXX®
Other Large Scale Vehicles with 24mm Hex
Product Specifications
| | |
| --- | --- |
| Product Weight | 511g |
| Tire Tread | Badlands MX43 Pro-Loc |
| Vehicle Type | Monster Truck |
| Front or Rear | Front and Rear |
| Compound / Hardness | Medium |
| Scale | 1/5 |
| Package Type | Tires and Inserts |
| Tire Type | All-Terrain |
| Track Surface | All-Terrain / Backyard |
| Wheel Position | Front/Rear |
| Tire Compound | Z3 (Medium) |
| Insert Material | Open Cell |
| Product Height | 8.3" (211 mm) |
| Quantity Option | 2 in a package |
| Inner Tire / Outer Wheel Diameter | 4.3 in |
| Product Width | 3.82" (97 mm) |