1/18 Big Bore Scaler Shocks (4): TRX-4M

1/18 Big Bore Scaler Shocks (4): TRX-4M
Product Details
Key Features
Ultimate Performance TRX-4M™ Shocks
CNC Machined Aluminum Shock Caps, Bodies, and Bottom Caps
True Big Bore Holds More Oil for Better Performance
Pre-Assembled, Just Add Oil! (20wt Oil Recommended)
Optional Stiff Springs Included
In The Box
(4 pcs) Big Bore Scaler Shocks
(2 pcs) Green Soft Springs
(2 pcs) Yellow Medium Springs
(4 pcs) Optional Stiff Red Springs
(4 pcs) M2.5 x 12
(4 pcs) M2.5 x 20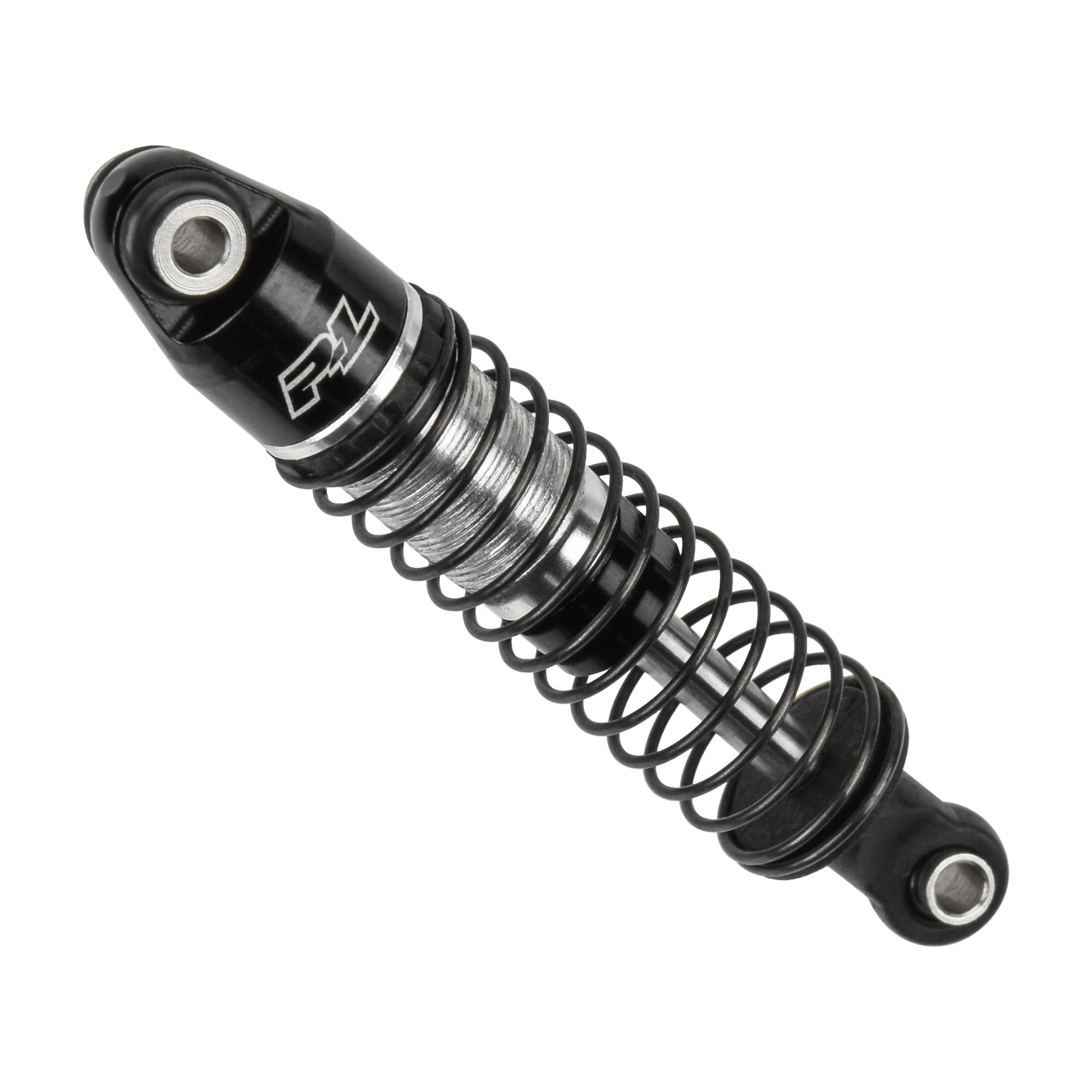 Overview
This a set of Big Bore Scaler Shocks, designed specifically for the TRX-4M™. Take your TRX-4M™ to the next level of performance in Pro-Line Style! Just like our best-selling 1/10 version, these miniature Big Bore Scaler Shocks feature CNC machined Aluminum Shock Caps, Threaded Bodies, Bottom Caps, and Polished Steel Shock Shafts for added style and durability over the stock shocks. A double O-ring seal on the main shaft eliminates leaks and provides a smooth, low-friction shock action.
The Big Bore Shocks come pre-assembled in a set of 4 with all mounting hardware included. All you need to do is unscrew the top cap and add silicone shock oil (20wt recommended) to fill the shock body. Replace the cap and compress the shock 3-4 times to fully lubricate the shock shaft. Now you're ready to start your next small-scale adventure!
Three spring rates are included with these shocks: Green (Soft) for the front, Yellow (Medium) for the rear, and optional Red springs (Hard) for heavier bodies or just to tune to your specific conditions. It includes all hardware needed to mount up to your TRX-4M™.  Don't miss out on the coolest looking and best performing mini shocks on the Planet, Get your own Pro-Line Big Bore Scaler Shocks today!
PRO639200 | Big Bore Scaler Shocks (4) for TRX-4M™
Features
Ultimate Performance TRX-4M™ Shocks
CNC Machined Aluminum Shock Caps, Bodies, and Bottom Caps
True Big Bore Holds More Oil for Better Performance
Pre-Assembled, Just Add Oil! (20wt Oil Recommended)
Leak-free Double O-Ring Seal
Polished Steel Shock Shaft
Optional Stiff Springs Included
Fits
Specs
Extended Length:
52mm (eye-to-eye)
Collapsed Length:
36mm (eye-to-eye)
Spring Range:
Green (Stock Front): Soft
Yellow (Stock Rear): Medium
Product Specifications
| | |
| --- | --- |
| Part Type | Shocks & Shock Parts |
| Scale | 1/18 |
| Vehicle Type | Rock Crawler |