1/10 Reaction+ HP Wide BELTED S3 Rear 2.2"/3.0" Drag Tire (2)

1/10 Reaction+ HP Wide BELTED S3 Rear 2.2"/3.0" Drag Tire (2)
Product Details
Key Features
Extra wide belt that wraps further into the corners of the tire to prevent any expansion
The Reaction+ is about 20% wider than the original Reaction HP tire
Made from Pro-Line's soft S3 compound
In The Box
(2) Reaction+ HP Wide SC Drag Racing BELTED Tires
(2) Soft Foam Inserts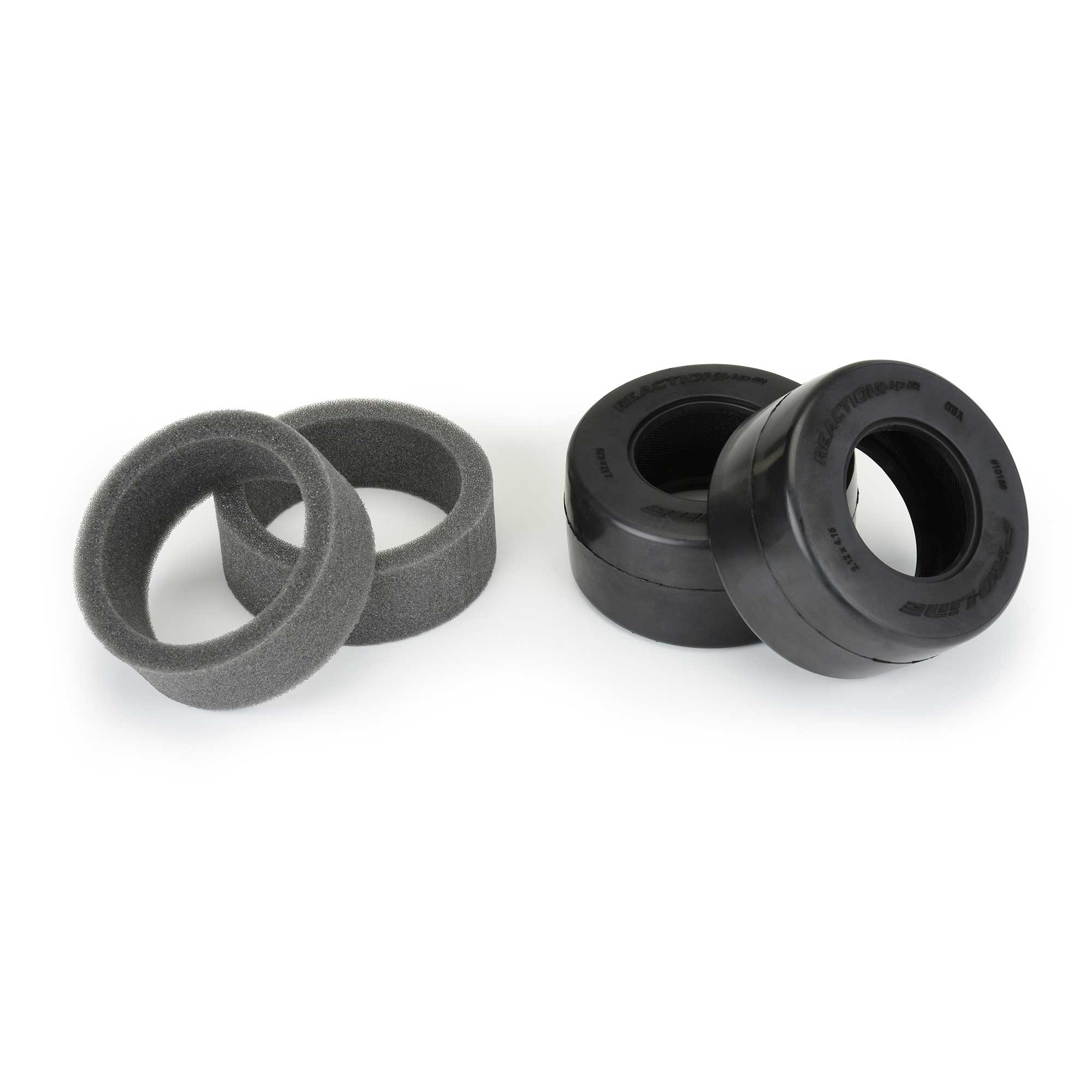 Overview
This is a pair of Reaction+ HP Wide SC Belted Drag Racing Tires. Pro-Line is proud to bring the next generation of drag racing tires to the no-prep scene with the new Reaction+ HP Wide SC BELTED tires! The Reaction+ is about 20% wider than the original Reaction HP tire for massively improved grip off the line, which can mean the difference between victory or defeat. Once you reach full throttle, you can have 100% confidence in the stability of this tire because it is belted with an extra wide belt that wraps further into the corners of the tire to prevent any expansion.
The Reaction+ tire is so wide that it will not fit standard width SC wheels, so Pro-Line engineers developed a new Wide SC wheel specifically for use with the Reaction+ HP: the Showtime+ Wide SC Wheel! Just like the original, the Reaction+ is made from Pro-Line's soft S3 compound, which is a proven winner taking the win and the top 4 spots at the 2021 King of the Streets drag race in Las Vegas. Just like all of Pro-Line's tires, they are proudly Made in the USA! Get maximum grip and stability so you can be faster than your racing buddies with Pro-Line's all-new Reaction+ HP Wide Drag Slick SC tires!
Please note that the Reaction+ HP tires have a maximum speed rating that, if exceeded, could result in permanently damaging the internal belt. For the Reaction+ HP Wide SC tires that is 90 mph or about 7,000 RPM. Over revving your Reaction+ HP tires could result in breaking the internal belt, which will NOT be covered under warranty. This can be caused by "diffing out" your tires or holding the throttle open while one, two or three of your tires are stopped, which substantially increases the RPM sent to the free-spinning tire or tires.
Please note: All tires & wheels are sold in pairs, unless otherwise noted
PRO10188203 | Reaction+ HP Wide SC S3 (Soft) Drag Racing BELTED Tires (2) for Pro-Line + Wide SC Wheels
Features
Nearly 20% Wider than the Original Reaction HP Tire
Massively Improved Grip Off the Line – the Difference Between Victory or Defeat
Extra Wide Molded-in Belt Provides Incredible Stability at High Speed
New Wide SC Format Tire only fits Pro-Line Wide SC wheels like the Showtime+ Wide SC wheel (PRO279403)
Specifically Made for No-prep Drag Racing
Made from Pro-Line's Winning S3 compound
Belted Slicks Give You Control to Put the Power Down
Soft Foam Inserts Included
Tires Made in the USA, since 1982
Fits
Pro-Line Wide SC Wheels – (PRO279403) Showtime+ Wide SC Wheel
Product Specifications
| | |
| --- | --- |
| Front or Rear | Rear |
| Compound / Hardness | Soft |
| Scale | 1/10 |
| Package Type | Tires and Inserts |
| Tire Type | Drag |
| Track Surface | Drag Racing |
| Wheel Position | Rear |
| Inner Tire / Outer Wheel Diameter | 2.2 / 3.0 in |
| Product Width | 2.12" (54 mm) |
| Insert Material | Open Cell |
| Product Height | 4.15" (105 mm) |
| Quantity Option | 2 in a package |
| Tire Compound | S3 (Soft) |
| Tire Tread | Reaction+ HP Wide BELTED |
| Vehicle Type | Drag Car |