1/10 Interco TSL SX Super Swamper XL G8 F/R 2.2" Crawler Tires (2)

1/10 Interco TSL SX Super Swamper XL G8 F/R 2.2" Crawler Tires (2)
Product Details
Key Features
Interco TSL SX Super Swamper Replica Design
XL Size to Tackle Tougher Terrain and More Obstacles
Maximum Ground Clearance and Unmatched Performance
Optimum in Handling, Durability and Longevity
Made in the Legendary G8 Rock Crawling Compound
In The Box
(2) Interco TSL SX Super Swamper XL 2.2" Tires
(2) Foam Inserts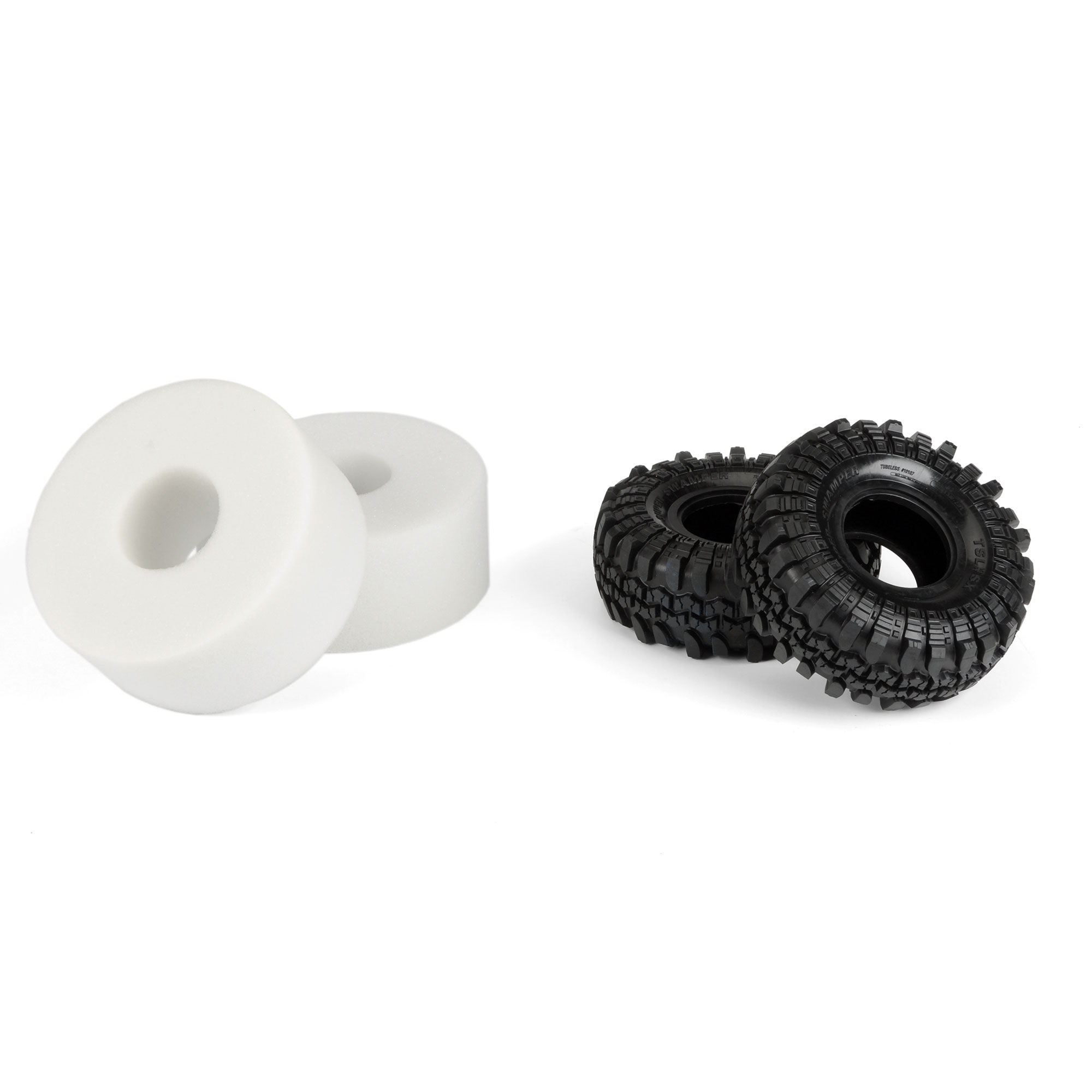 Overview
This is a pair of Super Swamper® XL 2.2" Tires. Under official license from Interco® Tire Corporation, Pro-Line is proud to announce the 2.2" TSL SX Super Swamper XL in the legendary G8 compound. With "almost scale"not being acceptable and access to Interco's design data, Pro-Line's engineering staff has reproduced the Super Swamper in a scale configuration matched by none. The new 2.2" XL is perfect for scale crawlers that want maximum ground clearance and unmatched rock crawling performance.
Compared to the original Interco 2.2" Swamper tire (5.4" in Height and 2.05 in Width), this new XL version is larger in diameter giving you the height you need to tackle any obstacles. It's also wider than the best-selling original which gives you the optimum in handling, durability and longevity. The Super Swamper XL is a great All-Terrain tire that can handle dirt, gravel, mud, rocks and even the street – all while looking good doing it.
The XL 2.2" Super Swamper (5.8" in height and 2.25" in Width) is the new must have Rock Crawling tire! Get yours today!
"The tires grip everything, clean out extremely well, and offer fantastic ground clearance. They are (IMO) second to none in the scale looks department and give any vehicle the look of a Top Truck Challenge performer. I highly recommend them."
- Big Squid RC
Please note: All tires & wheels are sold in pairs, unless otherwise noted
PRO1010714 | Interco® TSL SX Super Swamper® XL 2.2" G8 Rock Terrain Truck Tires (2) for Front or Rear


Features
Interco TSL SX Super Swamper Replica Design
XL Size to Tackle Tougher Terrain and More Obstacles
Maximum Ground Clearance and Unmatched Performance
Optimum in Handling, Durability and Longevity
Made in the Legendary G8 Rock Crawling Compound
Foam Included
Made in the USA, since 1982
Fits
2.2" Rock Crawling Front or Rear Wheels

Interco® Tire Corporation & trademarks used under license to Pro-Line.
Product Specifications
| | |
| --- | --- |
| Compound / Hardness | Soft Rock |
| Scale | 1/10 |
| Product Height | 5.8" (147 mm) |
| Quantity Option | 2 in a package |
| Tire Compound | G8 (Soft) |
| Inner Tire / Outer Wheel Diameter | 2.2 in |
| Product Width | 2.28" (58 mm) |
| Package Type | Tires and Inserts |
| Tire Type | Rock Crawling |
| Track Surface | Rock Racing |
| Insert Material | Open Cell |
| Tire Tread | Super Swamper |
| Vehicle Type | Rock Crawler |
| Wheel Position | Front/Rear |
| Front or Rear | Front and Rear |