1/10 Interco TrXus M/T G8 Front/Rear 1.9" Rock Crawling Tires (2)

1/10 Interco TrXus M/T G8 Front/Rear 1.9" Rock Crawling Tires (2)
Product Details
Key Features
Officially licensed Interco® TrXus® M/T Tires
New 4.5" tall by 1.65" Tire Size
Incredible Scale Detail Only Matched by the Awesome Performance
Fits 1.9" Wheels
Multi-stepped Tread Grips the Trickiest of Rock Crawling Conditions
In The Box
(2) Interco® TrXus® M/T 1.9" G8 Rock Terrain Truck Tires
(2) Foam Inserts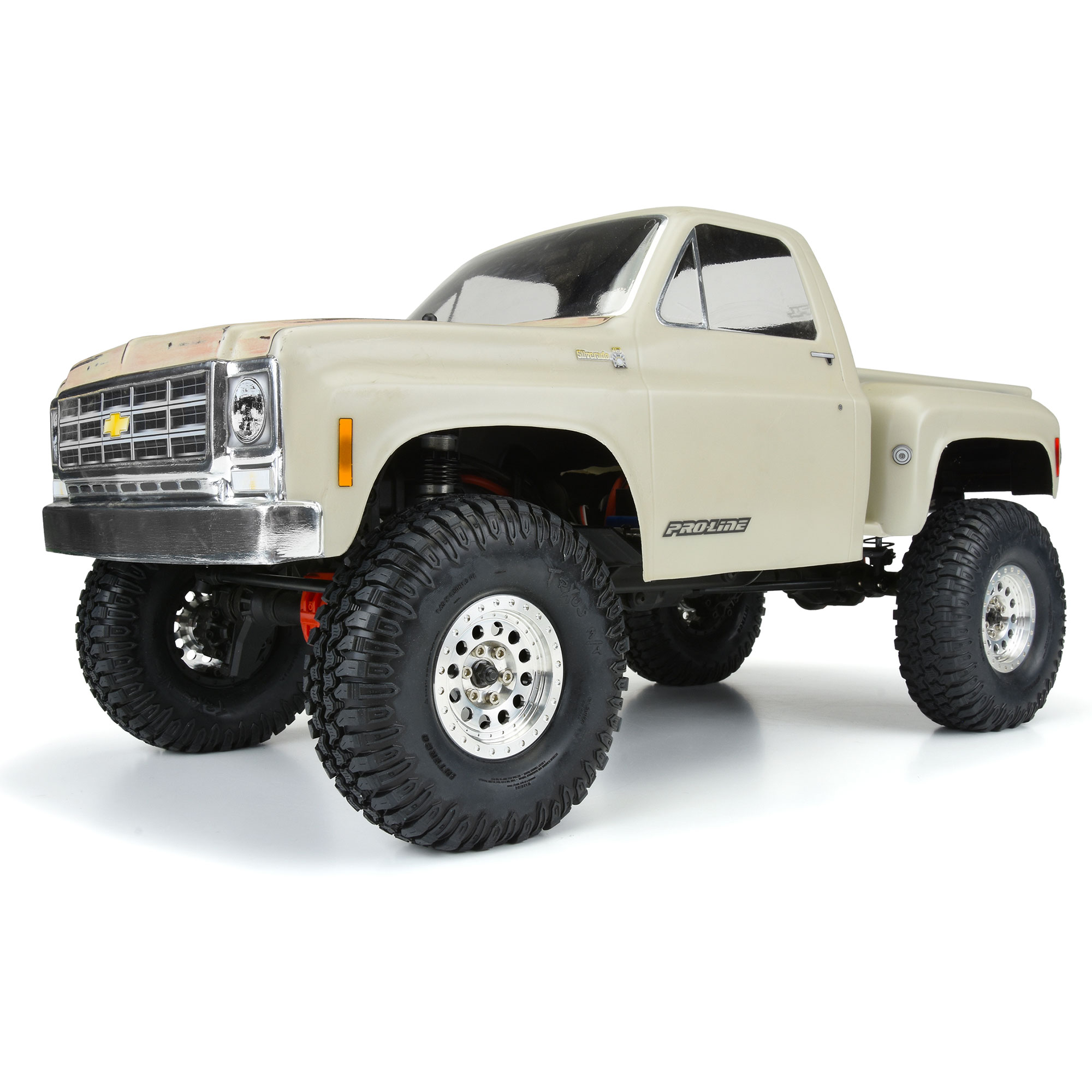 Overview
This is a pair of Interco® TrXus® M/T 1.9" Crawler Tires. Under official license from Interco® Tire Corporation, Pro-Line is proud to announce the 1.9" TrXus® M/T tire in the legendary G8 compound. With "almost scale" not being acceptable and access to Interco's design data, Pro-Line's engineering staff has reproduced the TrXus® M/T in a scale configuration matched by none. The new 4.5" tall by 1.65" wide tire is perfect for scale rigs begging for matching scale tires combined with unmatched rock crawling performance.
The full size TrXus® M/T is a legendary mud terrain tire that has more siping than any other mud terrain tire on the market. This feature has made the TrXus® M/T tire known for being almost magical in icy conditions, which also translates into being a serious rock crawling tire. The iconic knife edge dagger style sidewall of the TrXus® tire has been faithfully scaled down and reproduced down to the tiny Interco® logos in the side tread. The multi-stepped tire tread provides incredible grip for the tire size. The TrXus® M/T 1.9" tire is destined to become the new must have Rock Crawling tire! Get yours today!
Please note: All tires & wheels are sold in pairs, unless otherwise noted
PRO1017314 | Interco® TrXus® M/T 1.9" G8 Rock Terrain Truck Tires (2) for Front or Rear


Features
Officially licensed Interco® TrXus® M/T Tires
New 4.5" tall by 1.65" Tire Size
Incredible Scale Detail Only Matched by the Awesome Performance
Fits 1.9" Wheels
Multi-stepped Tread Grips the Trickiest of Rock Crawling Conditions
Iconic TrXus® M/T Dagger Style Sidewall
Made in the USA, since 1982
Fits
1.9" Rock Crawling Front or Rear Wheels

Interco® Tire Corporation & trademarks used under license to Pro-Line.
Product Specifications
| | |
| --- | --- |
| Manufacturer # | 10173-14 |
| Insert Material | Open Cell |
| Product Height | 4.5" (114 mm) |
| Quantity Option | 2 in a package |
| Tire Compound | G8 (Soft) |
| Compound / Hardness | Soft Rock |
| Scale | 1/10 |
| Track Surface | Rock Crawling |
| Wheel Position | Front/Rear |
| Inner Tire / Outer Wheel Diameter | 1.9 in |
| Product Width | 1.65" (42 mm) |
| Front or Rear | Front and Rear |
| Tire Tread | TrXus M/T |
| Vehicle Type | Rock Crawler |
| Package Type | Tires and Inserts |
| Tire Type | Rock Crawling |