1/10 Interco Bogger G8 F/R 1.9" Crwlr Trs MTD 12mm Blk Impulse (2)

1/10 Interco Bogger G8 F/R 1.9" Crwlr Trs MTD 12mm Blk Impulse (2)
Product Details
Key Features
Officially licensed Interco® Bogger®
Perfectly Suited for Extreme Mud Bogging Performance
Popular Impulse wheel style
Molded in Bead-Loc ring and lug nuts for scale look
Wheel made from high-strength, durable DuPont nylon material
In The Box
(2) Interco® Bogger 1.9" Tires Mounted on Impulse 1.9" Black Internal Bead-Loc 12mm Wheels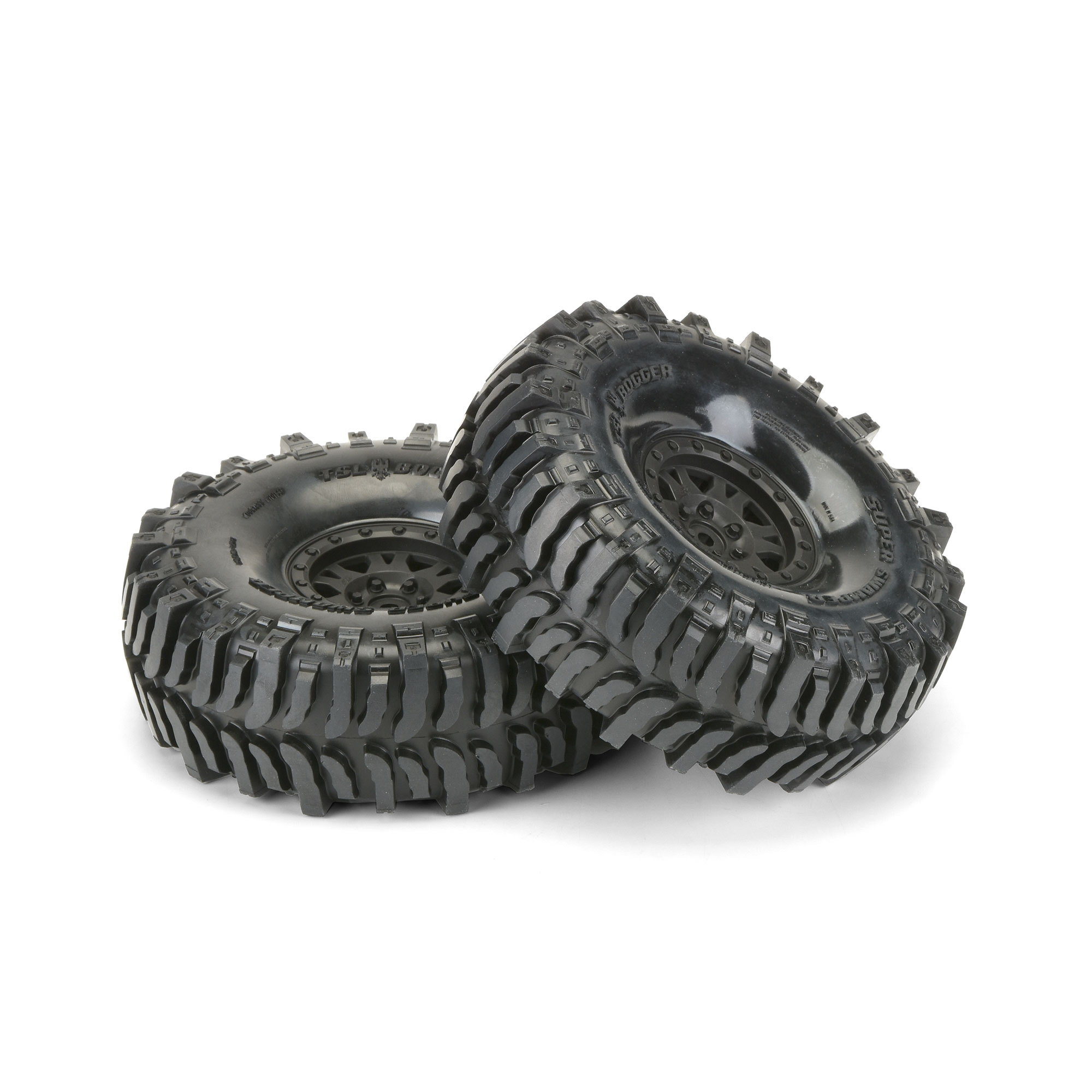 Overview
This is a pair of pre-mounted Interco® Bogger® 1.9" Tires. These massive 5.4" tall x 1.91" wide tires are perfect for guys looking to do some Mud Bogging with their rigs or for recreating a beloved full size truck in perfect scale detail. Pro-Line's officially licensed Interco® Bogger® tires feature a directional tread pattern with the patented Interco TSL (three stage lug) design just like the full-size tires. The Bogger® tires are aggressive in stock form and are also extremely versatile and easily modified for even more mud flinging performance. They come in Pro-Line's legendary G8 compound, so you know they will perform beyond expectations right out of the package.
The Interco® Bogger® 1.9" tire comes conveniently pre-mounted to Impulse Black Plastic 1.9" wheels that are Proudly Made in the USA! These Impulse wheels are designed to not only look scale but to be super easy to use by only requiring 6 screws per wheel for mounting tires. The unique 3-piece plastic wheel design bolts together in the back and locks on to Pro-Line's incredible list of 1.9" Crawling Tires.
Be the first on your block to get the Interco Bogger 1.9" tires mounted to Pro-Line's new 1.9" Black Impulse wheels - Order yours today!
Please note: All tires & wheels are sold in pairs, unless otherwise noted
PRO1013310 | Interco Bogger 1.9" G8 Tires Mounted on Impulse Black Internal Bead-Loc 12mm Wheels (2) for Rock Crawler Front or Rear


Features
TIRE FEATURES
Officially licensed Interco® Bogger®
Massive 5.4" tall x 1.91" wide
Perfectly Suited for Extreme Mud Bogging Performance
Directional Tread Pattern with the Patented Interco® TSL (three stage lug) Design
Dependable G8 Material
Extremely Versatile and Easily Modified
Made in the USA, since 1982
WHEEL FEATURES
Popular Impulse wheel style
Blacked out wheel color
12mm hex
3-piece Plastic Wheel Design Fits Pro-Line's 1.9" Crawling Tires
Molded in Bead-Loc ring and lug nuts for scale look
Wheel made from high-strength, durable DuPont nylon material
Fits
1:10 Scale Crawlers and Rock Racers Front or Rear

Interco® Tire Corporation & trademarks used under license to Pro-Line.
Product Specifications
| | |
| --- | --- |
| Compound / Hardness | Soft Rock |
| Color | Black |
| Scale | 1/10 |
| Inner Tire / Outer Wheel Diameter | 1.9 in |
| Product Width | 1.91" (49 mm) |
| Insert Material | Open Cell |
| Product Height | 5.4" (137 mm) |
| Quantity Option | 2 in a package |
| Tire Tread | Bogger |
| Vehicle Type | Rock Crawler |
| Tire Type | Rock Crawling |
| Track Surface | Rock Crawling |
| Wheel Position | Front/Rear |
| Tire Compound | G8 (Soft) |
| Wheel Hex Size | 12mm |
| Front or Rear | Front and Rear |
| Package Type | Pre-Mounted |
| Wheel Type | Impulse |