1/10 Ibex Ultra Comp Predator F/R 2.2" Crawler Tires (NO FOAM) (2)

1/10 Ibex Ultra Comp Predator F/R 2.2" Crawler Tires (NO FOAM) (2)
Earn
points on this item
ⓘ
Product Details
Key Features
Designed with input from Comp Crawling Champ Jake Wright
5.5" tall by 1.75" wide Provides Incredible Agility
Perfectly Spaced Multi-Step Pins Dig into Any Surface
Made from Pro-Line's Ultra-Sticky Super Soft Predator Compound
Fits Standard 2.2" Rock Crawling Wheels
In The Box
Ibex Ultra Comp 2.2" Rock Terrain Truck Tires (2 pcs)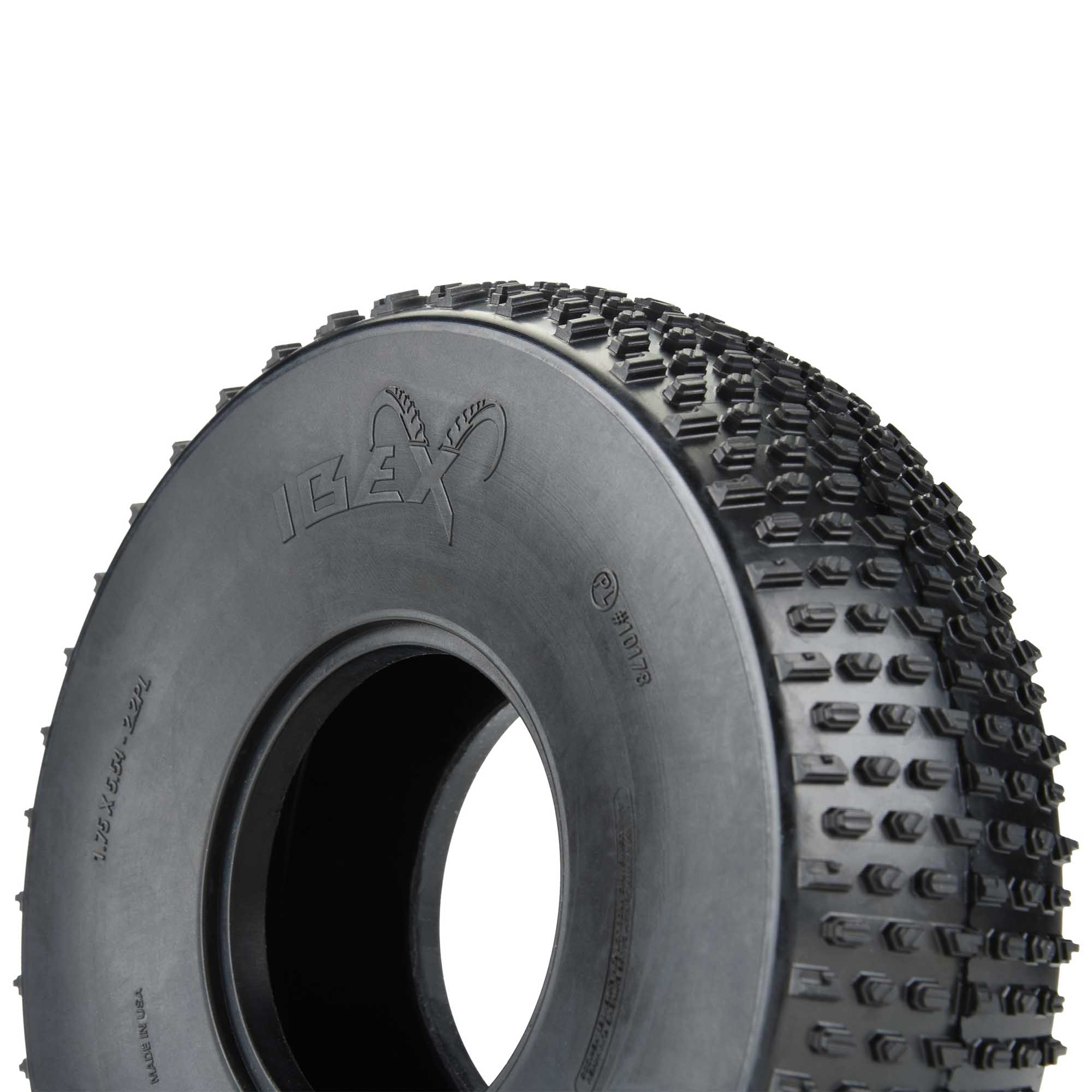 Features
Designed with input from Comp Crawling Champ Jake Wright
5.5" tall by 1.75" wide Provides Incredible Agility
Perfectly Spaced Multi-Step Pins Dig into Any Surface
Made from Pro-Line's Ultra-Sticky Super Soft Predator Compound
Fits Standard 2.2" Rock Crawling Wheels
The Ultimate Traction in Competitive Rock Crawling Applications
Overview
This is a pair of Ibex Ultra Comp 2.2" Tires No Foam. Pro-Line is ready to unleash the Ibex; the ultimate 2.2" Competition Crawling Tire! In nature, the Ibex is a powerful and wild species of mountain goat known for its large horns and incredible climbing abilities on near-vertical rock faces. This amazing animal served as an inspiration for developing the pinnacle of comp crawling tire performance: the 2.2" Ultra Comp Ibex tire in Super Soft Predator compound.
Designed from the ground up with input from multi-time Comp Crawling World Champion Jake Wright, the Ibex tire is 5.5" tall by 1.75" wide allowing for greater agility when tackling extremely tight gates with your MOA or Super Shafty comp rig. The multi-step tread pins on the Ibex are spaced out perfectly to dig into every possible edge on the rock face to give you the advantage over the competition. The Ibex 2.2" tire is made from Pro-Line's proprietary Super Soft Predator compound, which is ultra-sticky and allows the tire carcass to conform to any surface. Don't get left behind get the ultimate traction that the Ibex Ultra Comp 2.2" tire provides!
Lab Certified Select Compounds
Download the full tire compound chart
Specifically Designed for High Performance Rock Crawling
Provides Maximum Grip on Low Grip and Wet Surfaces
Super Soft Material Conforms to Any Surface
Use for Cooler Temperatures
---
Not sure where to start? Check out the Pro-Line Tire Selector Tool!
---
Please note: All tires & wheels are sold in pairs, unless otherwise noted.
Search:
10178-03 | Ibex Ultra Comp 2.2" Predator (Super Soft) Rock Terrain Truck Tires (2) No Foam for Front or Rear
Fits On
2.2" Rock Crawling Front or Rear Wheels
Product Specifications
| | |
| --- | --- |
| Manufacturer # | 10178-03 |
| Insert Material | None |
| Product Height | 5.54" (141 mm) |
| Quantity Option | 2 in a package |
| Tire Compound | Predator (Super Soft) |
| Package Type | Tires Only |
| Inner Tire / Outer Wheel Diameter | 2.2 in |
| Product Width | 1.75" (44 mm) |
| Vehicle Type | Rock Crawler |
| Tire Tread | Ibex Ultra Comp |
| Compound / Hardness | Super Soft Rock |
| Scale | 1/10 |
| Tire Type | Rock Crawling |
| Track Surface | Rock Racing |
| Wheel Position | Front/Rear |
| Front or Rear | Front and Rear |