1/10 Grunt G8 Front/Rear 1.9" Rock Crawling Tires (2)

1/10 Grunt G8 Front/Rear 1.9" Rock Crawling Tires (2)
Earn
points on this item
ⓘ
Product Details
Key Features
Scale Military Tire Looks and Performance
Tire Size: 4.4" Tall by 1.4" wide
Can be Used as a Dually for Custom Builds!
Alternating Rows of 3 Tread Blocks for Maximum Scale Grip
Made from Pro-Line's legendary G8 Rock Crawling Compound
In The Box
Grunt 1.9" Tires (2 pcs)
Soft White Foam Inserts (2 pcs)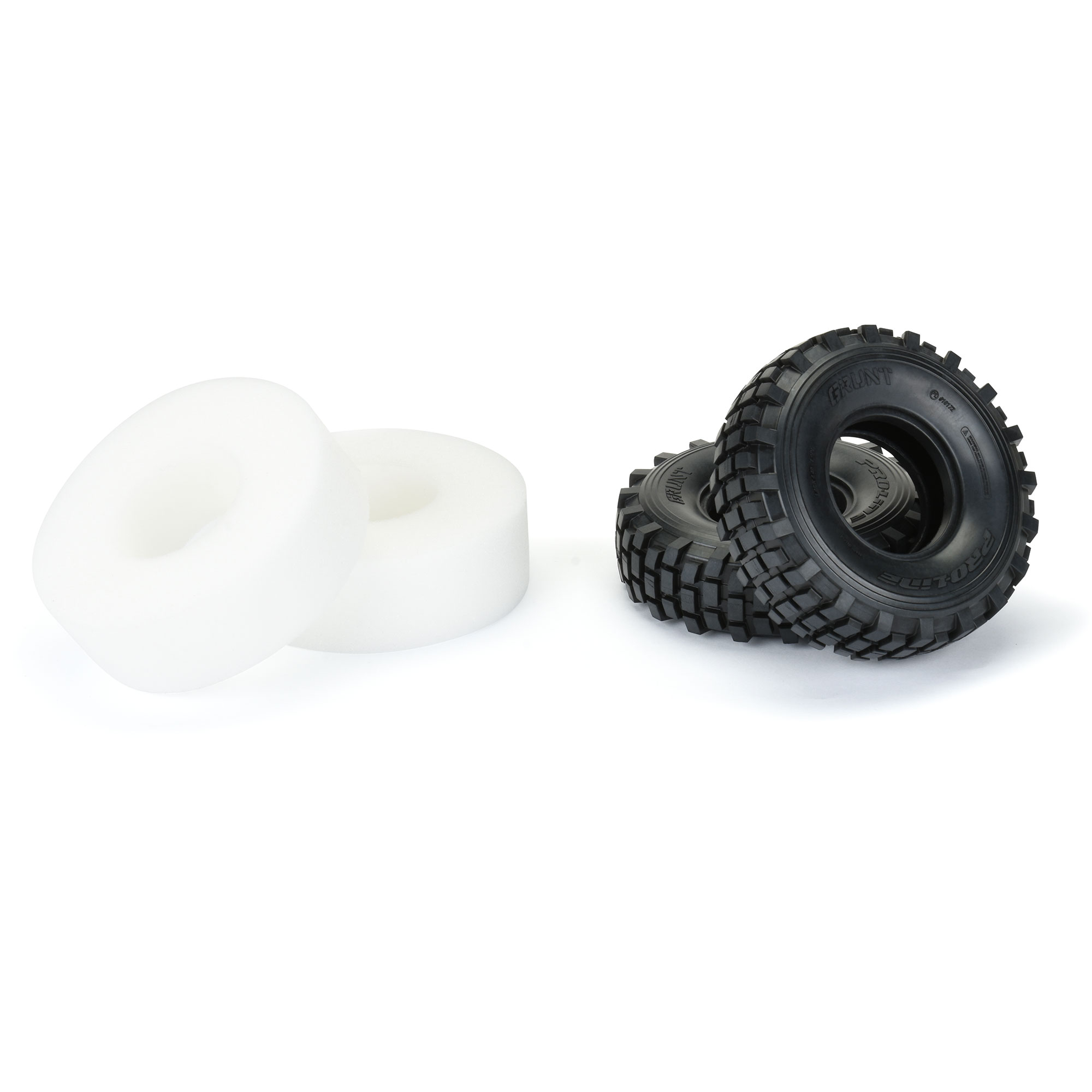 Features
Scale Military Tire Looks and Performance
Tire Size: 4.4" Tall by 1.4" wide
Can be Used as a Dually for Custom Builds!
Alternating Rows of 3 Tread Blocks for Maximum Scale Grip
Made from Pro-Line's legendary G8 Rock Crawling Compound
Overview
This is a pair of Grunt 1.9" Rock Crawling Tires. Pro-Line is ready to equip and mobilize the fleet of military crawlers with the all-new combat-ready Grunt 1.9" tires! The Grunt has been designed from the ground up to give your military build the scale looks and performance that you need to outmaneuver the enemy. Coming in at 4.4" tall by 1.4" wide the Grunt 1.9" the tire is the perfect size for single or dually military tire applications. The tread features alternating rows of 3 tread blocks that will charge through trenches and take no prisoners. The stepped sidewall not only looks scale but also adds protection from sharp jagged rocks. The Grunt 1.9" tires are made from Pro-Line's legendary G8 rock crawling compound, so you know they will have the grip you need. Gain the high ground with Pro-Line's new Grunt 1.9" Rock Crawling Tires. Get yours today!
---
Check out what our friends over at RCNewb has to say in their review HERE
---
Not sure where to start? Check out the Pro-Line Tire Selector Tool!
---
Please note: All tires & wheels are sold in pairs, unless otherwise noted
Search:
10172-14 | Grunt 1.9" G8 Rock Terrain Truck Tires (2) for Front or Rear
Fits On
1.9" Rock Crawling Front or Rear Wheels
Product Specifications
| | |
| --- | --- |
| Manufacturer # | 10172-14 |
| Compound / Hardness | Soft Rock |
| Inner Tire / Outer Wheel Diameter | 1.9 in |
| Insert Material | Open Cell |
| Outer Diameter | 4.4" (112 mm) |
| Package Type | Tires and Inserts |
| Product Height | 4.4" (112 mm) |
| Product Width | 1.4" (36 mm) |
| Quantity Option | 2 in a package |
| Scale | 1/10 |
| Tire Compound | G8 (Soft) |
| Tire Tread | Grunt |
| Tire Type | Rock Crawling |
| Track Surface | Rock Crawling |
| Vehicle Type | Rock Crawler |
| Wheel Position | Front/Rear |