1/10 Cliffhanger High Performance Clear Body 12.3" (313mm) WB Crwlrs

1/10 Cliffhanger High Performance Clear Body 12.3" (313mm) WB Crwlrs
Product Details
Key Features
Designed Specifically for 12.3" Wheelbase Class 2 and Class 3 Comp Crawlers
Pinched Front End and Dove-tailed Rear End for Max Tire Clearance
Maintains True-to-Scale Appearance
Made from a Single Piece of Crystal-Clear Polycarbonate
Maximum Crawler Performance that Adheres to Competition Rules
In The Box
Cliffhanger High Performance Clear Body (1 pc)
Decal Sheet
Window Masks
Paint-then-peel Overspray Film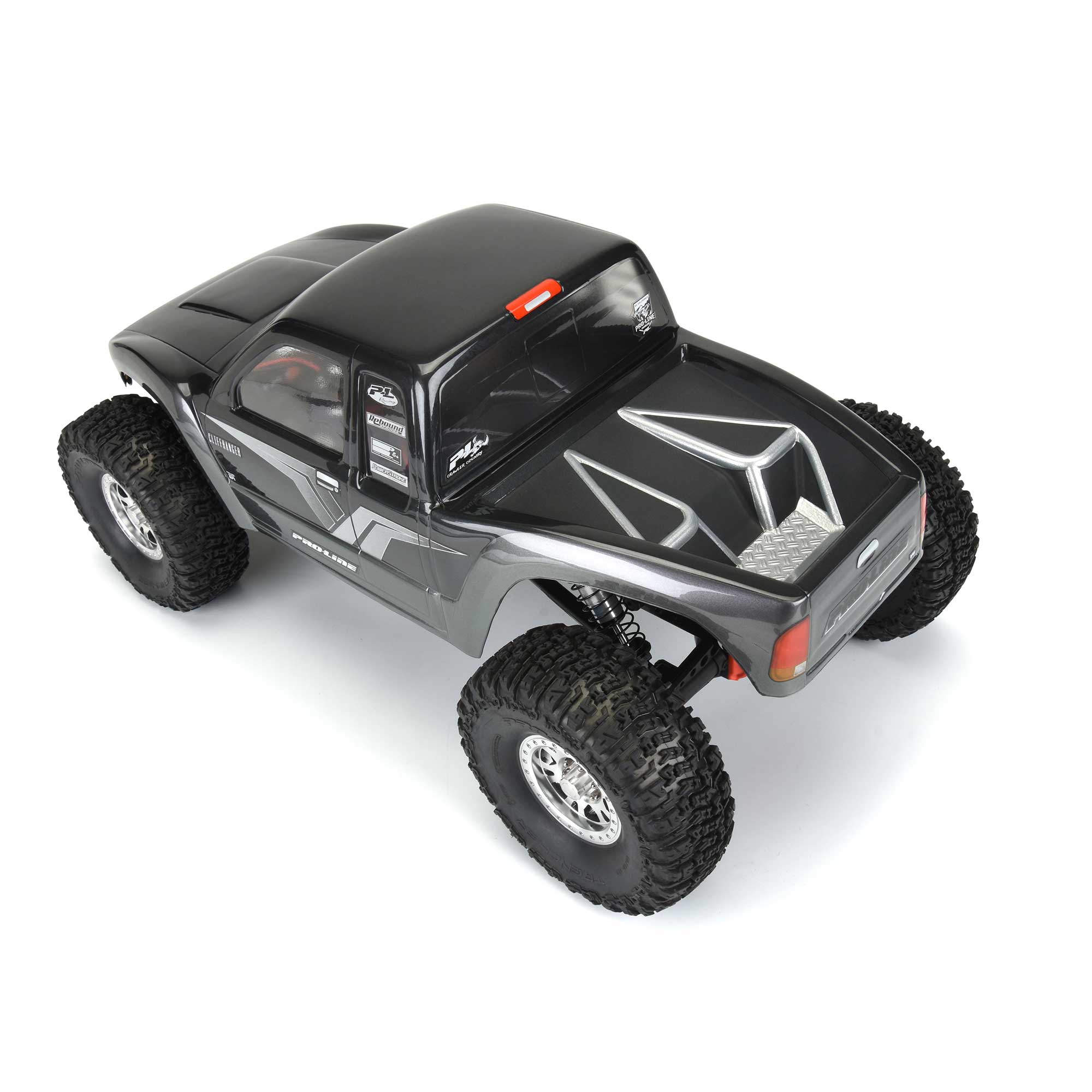 Overview
Introducing the all-new Cliffhanger High Performance Rock Crawling competition body from Pro-Line that was developed specifically for 12.3" wheelbase Class 2 and Class 3 vehicles. Scale competition crawling is a growing part of the overall rock crawling movement and Pro-Line's Cliffhanger body provides everything that these competitors have been asking for. The Cliffhanger features a pinched front end and a dove-tailed rear end for maximum tire clearance while still maintaining a true-to-scale appearance. The Cliffhanger is made from a single piece of crystal-clear polycarbonate to save on weight and has a molded-in drop-down bed to make room for you to add your favorite scale accessories. Everything on the Cliffhanger body has been optimized for maximum crawling performance while still complying with the letter and spirit of the competition crawling rules. Don't get stuck behind on the rocks, get your very own Cliffhanger body today!
Don't forget to submit your finished Pro-Line body to Reader's Rides when you are done. Who knows, you could get your ride posted on the blog and you could even win a prize!
This is sold as a clear and unpainted body. Image of the painted body is only to display details. No vehicle chassis is included with this product.
PRO356600 | Cliffhanger High Performance Clear Body for 12.3" (313mm) Wheelbase Scale Crawlers
Features
Designed Specifically for 12.3" Wheelbase Class 2 and Class 3 Comp Crawlers
Pinched Front End and Dove-tailed Rear End for Max Tire Clearance
Maintains True-to-Scale Appearance
Maximum Crawler Performance that Adheres to Competition Rules
Molded-in Drop Down Bed to Add your Favorite Scale Accessories
Paint-then-peel Overspray Film Built-in
Made with Crystal Clear Polycarbonate
Made in the USA, since 1982
Four Steps to Crawl Ready
Clean Body and apply included window mask
Paint then peel the over-spray film off
Sticker your body (decal sheet included)
Mount your new body onto your Truck
Fits
SCX10™
Element Enduro
Other 12.3" Wheelbase Crawlers
Specs
Width at Doors:
7.0" (178mm)
Width at Fenders:
6.5" (165mm)
Product Specifications
| | |
| --- | --- |
| Product Height | 4.8" (122 mm) |
| Body Style | Extended cab pickup |
| Material | Polycarbonate |
| Color | Clear |
| Scale | 1/10 |
| Wheelbase | 12.3" (312 mm) |
| Product Length | 16.7" (424 mm) |
| Vehicle Type | Rock Crawler |