1/10 Badlands Front/Rear 2.2"/3.0" SC Mounted 12mm Black Raid (2)

1/10 Badlands Front/Rear 2.2"/3.0" SC Mounted 12mm Black Raid (2)
Earn
points on this item
ⓘ
Product Details
Key Features
Super-aggressive Styling
Motocross Style Tread for Longevity and Superior Traction
Soft, re-usable and water-proof Closed Cell Foam Inserts Included
Removable Hexes Allow You to Change Wheel Offsets on the Fly
The 2 Most Common 12mm Offset Hexes are Included!
In The Box
(2) Badlands SC Pre-Mounted on Raid 2.2"/3.0" Black 6x30 Removable Hex SC Wheels
(2) Closed Cell Foam Inserts
(2) 6x30 to 12mm Hex Adapters (Slash® 4x4 Front/Rear, Slash® 2wd Rear Offset)
(2) 6x30 to 12mm Hex Adapters (Slash® 2wd Front Offset)
(2) 6x30 to 12mm Hex Adapters (ProTrac/Zero Offset)
(2) 6x30 to 14mm Hex Adapters
(12) M3 x 12mm BHCS hardware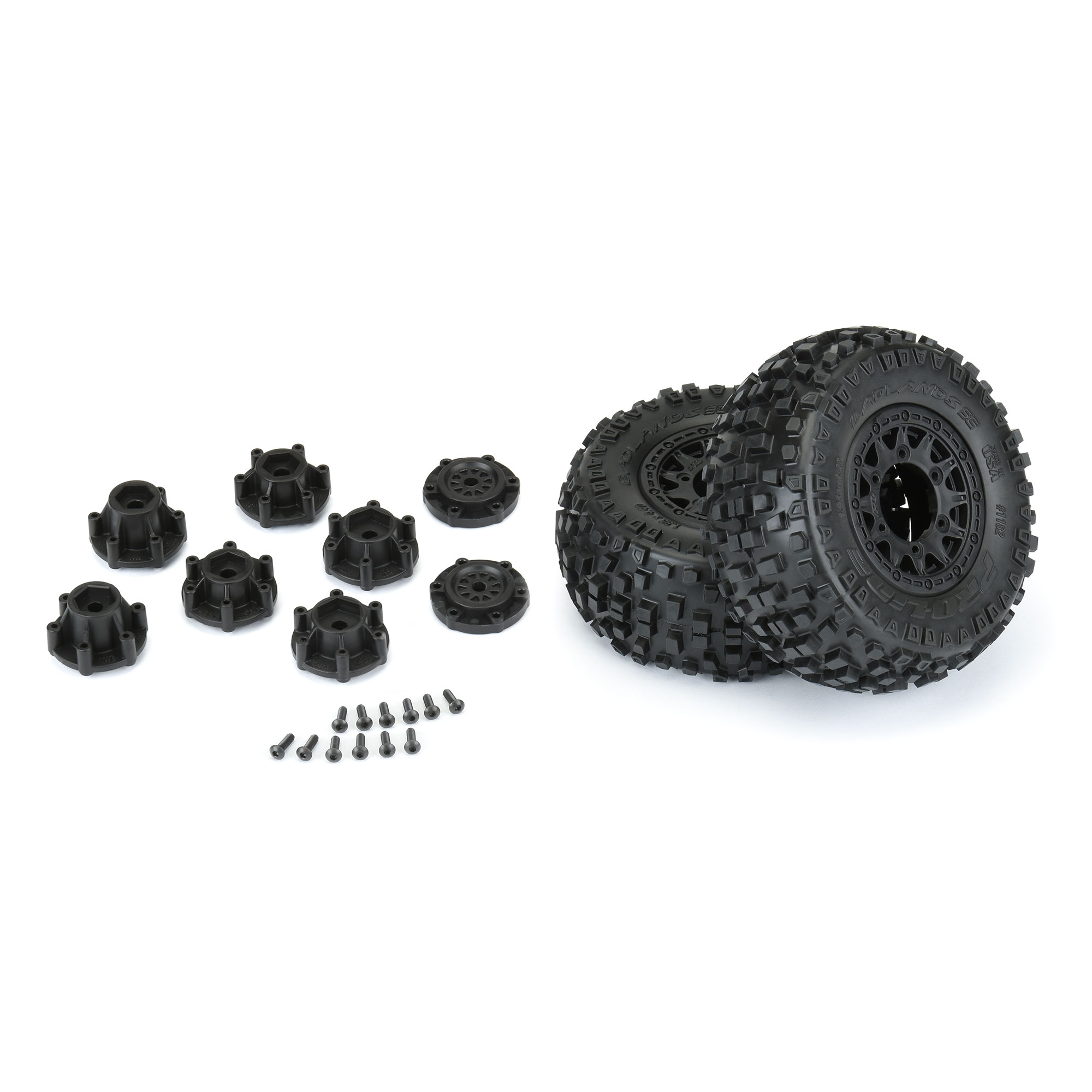 Overview
This is a pair of pre-mounted Badlands All-Terrain Short Course Tires. Are you ready to chew up the dirt and spit it out in a huge spray behind your SC truck? If so, then the Badlands SC tire is exactly the tire that you have been waiting for. The Badlands SC tire offers motocross style tread with huge, long-lasting lugs giving it the looks and performance that have won over bashers all across the globe. The Badlands tread design is made for the die-hard motocrosser in you. Its oversized grass and dirt shredding lugs offer you the ultimate in performance under all-terrain type conditions. The lugs are designed to ensure longevity while spitting up the surface below. Made from soft yet durable M2 compound, the Badlands tire is poised for battle and ready to take your Short Course Truck to the next level of bashing heaven.
The Badlands SC tires are mounted to a pair of Raid SC Removable Hex Wheels. We take the guesswork out of your glue job by doing the mounting for you so you can spend your time having fun! Pro-Line is proud to introduce a true next-generation Short Course wheel design – the Raid 2.2"/3.0" Removable Hex Wheel for all Short Course Tires! Imagine being able to easily change the offset of your wheel to fit different applications by simply changing out the hex! Now you can with the 6x30 Removable Hex system from Pro-Line. The wheels include a pair of 12mm Slash® 4x4 Front/Rear (Slash® 2wd Rear) hexes, a pair of 12mm Slash® 2wd Front hexes, a pair of 12mm ProTrac™ hexes and a pair of 14mm hexes that fit the most popular trucks. Optional replacement 14mm, 17mm and ProTrac™ offset 12mm hexes (PRO635500) are available separately. If your wheel hex ever gets damaged, it can easily be replaced without needing to replace your glued tires (PRO635400 Replacement Slash® Hexes only)! These Raid SC wheels accomplish all of this and more by using Pro-Line's unique 6x30 interlocking hex design that is secured to the wheel by 6 M3 screws that are spaced 30mm across. The built-in adjustability and ease of use make this a must-have wheel for Short Course Trucks everywhere! Get your Raid SC pre-mounted tires today!
Please note: All tires & wheels are sold in pairs, unless otherwise noted
PRO118210 | Badlands SC 2.2"/3.0" All Terrain Tires Mounted on Raid Black 6x30 Removeable Hex (12mm & 14mm) SC Wheels (2) for Slash® 2wd, Slash® 4x4, ProTrac™ & Senton™ 4x4 Front or Rear
Slash® is a registered trademark of Traxxas® L.P.
Features
TIRE FEATURES
Readers' Choice Award-Winning Tread Design
Super-aggressive Styling
Motocross Style Tread for Longevity and Superior Traction
Latest Generation V2 SC Wide Carcass for Increased Contact Patch
Soft, re-usable and water-proof Closed Cell Foam Inserts Included
Made from M2 (Medium) compound
Tires Made in the USA, since 1982
WHEEL FEATURES
Removable Hexes Allow You to Change Wheel Offsets on the Fly
The 2 Most Common 12mm Offset Hexes are Included, plus 12mm ProTrac/Zero Offset and 14mm hexes!
Easily Replace Damaged Hexes (PRO635500) or upgrade to 17mm Hexes
Fits any of Pro-Line's 6x30 Removable Wheel Hexes for Tons of Custom Offset Options
Wheel Made from High-strength, Durable DuPont Nylon Material
Raid 10-spoke Wheel Design Mimics Full-size Racing Wheels
M3 Wheel Hex Hardware Included
Fits
Slash® 2wd Front or Rear
Slash® 4x4 Front or Rear
SCT 2wd & 4x4 Front or Rear
TENACITY™ TT Pro 4WD Front or Rear
Senton™ 4x4 3S and MEGA 550 Front or Rear
Requires PRO635500 to fit 17mm Offset SC Trucks
Product Specifications
| | |
| --- | --- |
| Inner Tire / Outer Wheel Diameter | 2.2 / 3.0 in |
| Outer Diameter | 4.4" (112 mm) |
| Product Width | 1.96" (50 mm) |
| Front or Rear | Front and Rear |
| Compound / Hardness | Medium |
| Color | Black |
| Scale | 1/10 |
| Package Type | Pre-Mounted |
| Tire Type | All-Terrain |
| Track Surface | All-Terrain / Backyard |
| Wheel Position | Front/Rear |
| Tire Tread | Badlands |
| Vehicle Type | Short Course Truck |
| Wheel Color | Black |
| Insert Material | Closed Cell |
| Product Height | 4.4" (112 mm) |
| Quantity Option | 2 in a package |
| Tire Compound | M2 (Medium) |
| Wheel Hex Size | 12mm |
| Wheel Type | Raid |