Trencher 4.3" Pro-Loc X-MAXX Wheel

Trencher 4.3" Pro-Loc X-MAXX Wheel
Product Details
Key Features
Horizontal H Shaped Tread for Ridiculous Amounts of Traction and Stability
Over-sized Tall Tread and Wider Tire Size
Extremely Detailed Sidewall For a Tough Off-road Look
Super Soft, Maximum Traction Tire Compound
Reinforced Tire Bead
In The Box
Trencher 4.3" Pro-Loc Tires (2 pcs)
Foam Inserts (2 pcs)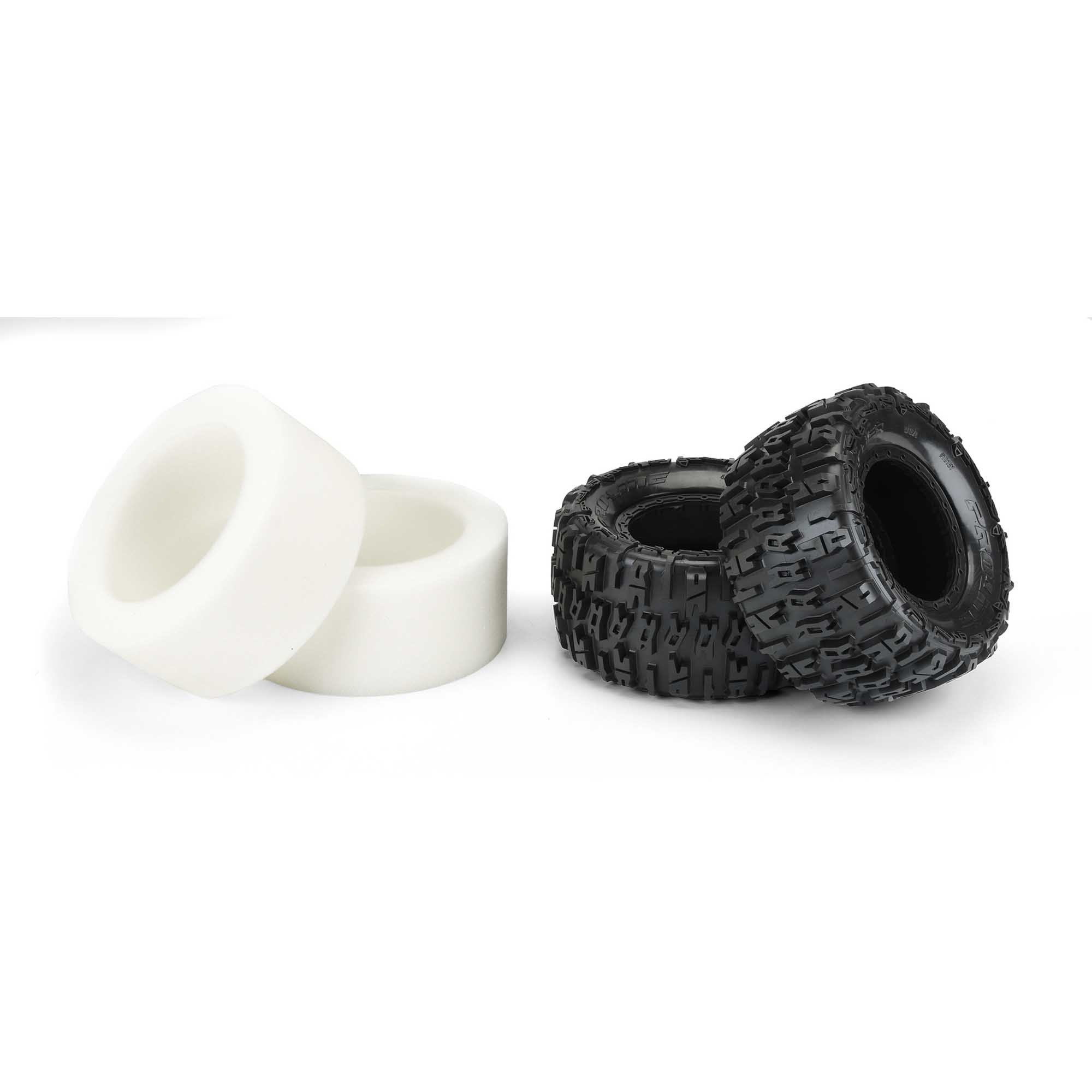 Features
Horizontal H Shaped Tread for Ridiculous Amounts of Traction and Stability
Over-sized Tall Tread and Wider Tire Size
Extremely Detailed Sidewall For a Tough Off-road Look
Super Soft, Maximum Traction Tire Compound
Reinforced Tire Bead
Proprietary Pro-Loc Technology for Secure Tire Mounting
Pairs perfectly with Pro-Line's Impulse Pro-Loc wheels for X-MAXX®
Foam Inserts Included
Overview
This is a pair of Trencher 4.3" Pro-Loc Tires. Pro-Line is ready to unleash the incredibly popular Trencher tread super-sized for your X-MAXX®! Pro-Line's world class development team spent several months of research, development and testing to ensure that the Trencher 4.3" tire will perform above and beyond your expectations in any off-road condition you can dream up. Whether it is loose or hard-packed dirt, sand, snow, grass or gravel the Trencher tire is up to the task. The Trencher 4.3" is Wider and Taller than the popular Badlands 4.3" for more aggressive looks and performance and comes in a Super Soft compound for incredible grip!
The Trencher tread was designed to have ultimate traction combined with long-lasting durability. Each tire lug is shaped to dig into whatever surface you are running on and is ultra-thick so that it is extremely durable. The Trencher 4.3" tire features Pro-Line's ground breaking proprietary Pro-Loc Technology that creates an ultra-secure bond to Pro-Line's Impulse Pro-Loc X-MAXX® wheels while still being removable when required. The reinforced Tire bead fits into a uniquely shaped channel on the wheel and the bead-loc screws actually pass through the tire rubber before being pinched by the outer bead-loc ring to create the maximum possible mounting security.
If you want to take your X-MAXX® to the next level of Performance, get Pro-Line's new Trencher 4.3" Pro-Loc Tires!!
*Please Note the Trencher 4.3" Pro-Loc Tires only fit on Pro-Line Pro-Loc Wheels*
Search:
10151-00 | Trencher 4.3" Pro-Loc All Terrain Truck Tires (2) for Pro-Loc X-MAXX® Wheels Front or Rear
Product Specifications
| | |
| --- | --- |
| Manufacturer # | 10151-00 |
| Inner Tire / Outer Wheel Diameter | 4.3 in |
| Product Width | 3.97" (101 mm) |
| Tire Tread | Trencher |
| Vehicle Type | Monster Truck |
| Scale | 1/5 |
| Compound / Hardness | Medium |
| Tire Type | All-Terrain |
| Track Surface | All-Terrain / Backyard |
| Wheel Position | Front/Rear |
| Insert Material | Open Cell |
| Product Height | 8.62" (219 mm) |
| Quantity Option | 2 in a package |
| Tire Compound | M2 (Medium) |
| Package Type | Tires and Inserts |